This past July at its Worldwide Partner Conference, Microsoft announced the next entry into its Office 365 lineup: The E5 plan. Comprised of every enterprise feature released up to that point, E5 adds in Business Intelligence software, increased compliance with industry regulations and hosting for phone systems through Skype for Business.
After remaining relatively quiet about how these features will work, how much they will cost, and when they will be available, the company has finally released more information about the plan this week.
Holding true to their promise to release E5 before the end of the year, the plan will be made available worldwide on December 1st, 2015. This is not without its caveats, however, as conferencing features associated with consumption based calling will not be available until spring 2016. This includes toll-fee dial in and international dial out. Essentially, until these consumption features are enabled, attendees of a Skype meeting will have to pay to join.
At the baseline, the Office 365 E5 plan will cost $35 per user per month, and the inclusion of international PSTN calling will cost an additional $24. Adding in calling for domestic calls, however, will only cost an additional $12 per user. So overall, companies can expect to pay a total of $59 per user per month to get a fully hosted phone system with no restrictions as part of the plan.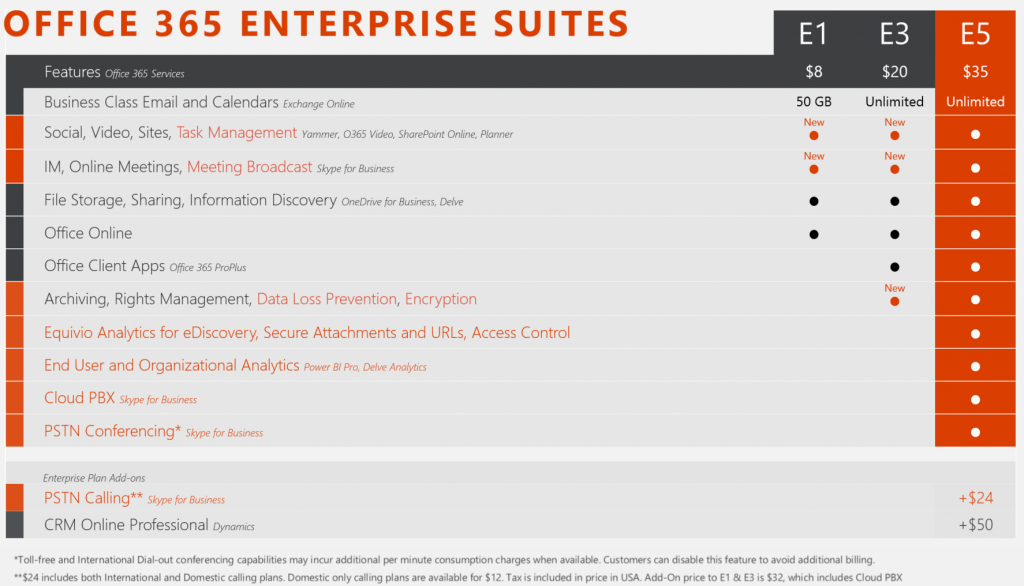 Compared to early estimates from industry leaders, this cost falls on the higher end of the $40-60 cost per user that was expected. Compared to applications and services providing the same functions as those included in the E5 plan, however, the $59 price tag still comes about $30 cheaper.
And while the new plan will be getting a large amount of new features, organizations set on sticking to their E1 and E3 plans will still be able to reap some rewards. Many preexisting components of those plans will be getting enhanced features.
One major improvement for all enterprise plans is the inclusion of Skype Meeting Broadcast, which will allow any user of Skype for Business to host an online meeting/webinar for up to 10,000 attendees. One other addition is a new task management application called Planner. Meanwhile, the E3 plan will get a few new features for managing compliance: data loss prevention tools and file encryption.
On top of all this, organizations will also have the opportunity to add PSTN calling and cloud PBX to their Office 365 tenant without upgrading to the new plan. This feature will cost an additional $32 per user.
With the release now so close, Metro CSG can begin working with interested customers to purchase the plans and implement their features once they become available.
---

Interested in more guides like this?
Sign up for our blog and get all our latest posts sent directly to your inbox!