UPDATED: On February 12, Microsoft announced that it will no longer be updating Chrome and Firefox to use Bing as a default search engine. This blog has been updated to reflect this decision.
---
Last month, Microsoft caused a bit of an uproar among the IT community when their Microsoft 365 roadmap was updated with an extension designed to force Bing as the default search engine on certain browsers. Likely an attempt to push more businesses towards the new Microsoft Search service, the plan was not well received as it took some choice and control away from administrators.
Now, several weeks after first announcing the change, Microsoft has changed course and stated that it will no longer be pushing the extension by default. This gives administrators the freedom to test and roll out Microsoft Search on their own terms.
Microsoft Search is essentially an extended version of the Bing search engine, which besides searching the web will also comb through Office 365 files, contacts, calendars, and more for relevant content.
There is definitely a benefit here, as it gives users more options to connect with their all their Office 365 data in a single place. Like any other search engine, users are presented with tools to narrow their search to different media types relevant to what they're looking for. On top of presenting users with a list of results around the web, however, they will also be able to see information specific to their IT environment, including documents, users, calendar events, and more.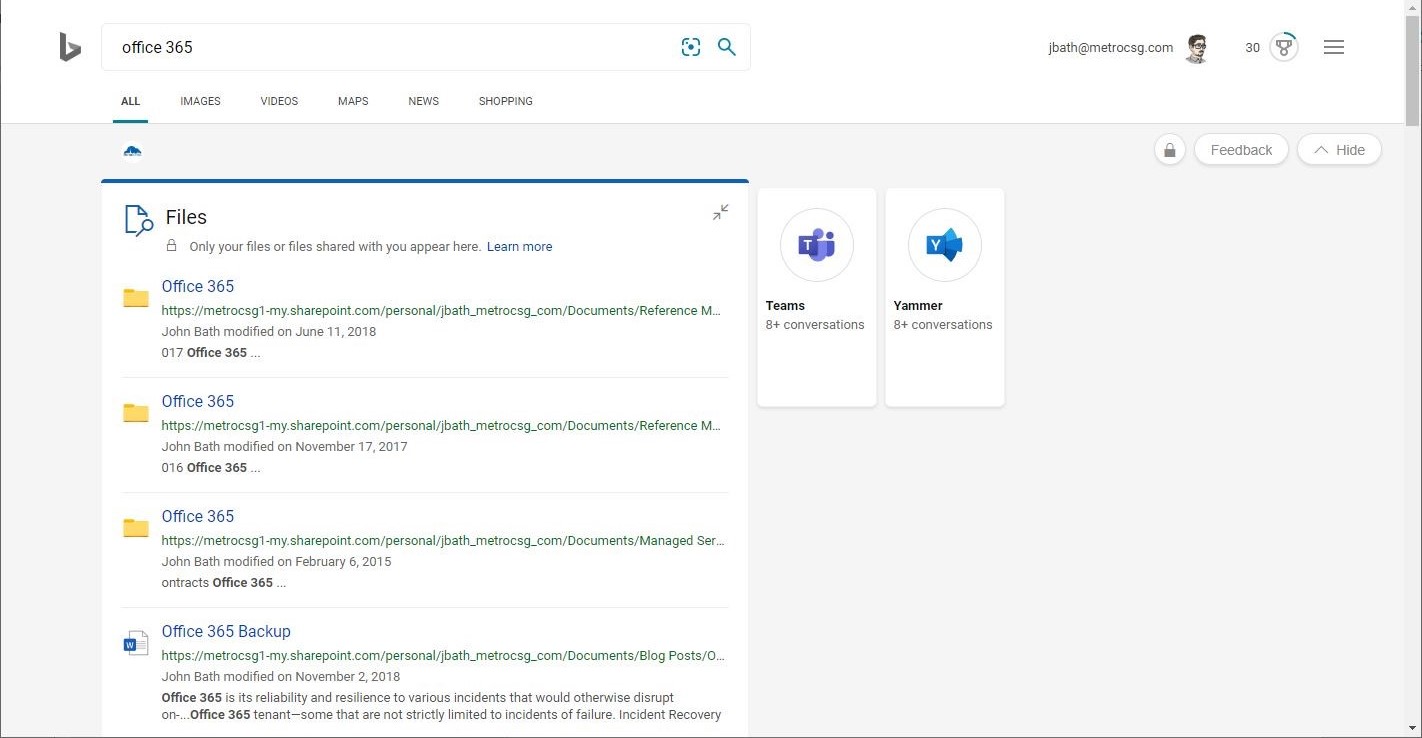 As long as a user has authenticated their identity in some way, such as logging into a network enrolled device or application, the Bing engine will automatically surface data from Office 365. This contrasts with existing search methods in Office 365, which require the user be logged into the service and offer more limited results.
Overall, this service presents an opportunity for greater productivity among users and teams, and is worth the consideration of admins with access. Through Group Policy in Office 365, administrators may set pilot groups to adopt the Bing Extension and test using Microsoft Search. Similarly in Intune, administrators can push the Extension to devices when they are updated.
As of now, however, the release of the Bing Extension has officially been pushed back since Microsoft revised their rollout strategy but can still be anticipated for Q2 2020. With Managed Services from Metro CSG, our team can help assess the service for you and create a plant to roll it out to devices if you so desire.
Metro CSG offers weekly patching for devices, conducted during off hours to minimize impacts to users. If you seek a dedicated IT provider to assist with upkeep of your devices or want help managing this change, please reach out to us! We would be happy to assist you.